Don't get stuck with the tourists on Times Square!


Here's how to avoid it


Read updates at the Times Square website

We made a google map: avoid the area in red, both on foot or by car/taxi. You can get in but you can't get out until next year! Also, don't drive anywhere close to it.

The best approach is
-from downtown: on foot or by subway A C E 1 2 3 Penn Station
-from the East Side: cross to the West Side through Central Park or points north, or near 34th Street or points south. DO NOT TAKE THE 42nd St Shuttle "S" or the 7 train
-from West Midtown: on foot
-from the Upper West Side: A C E 1 2 3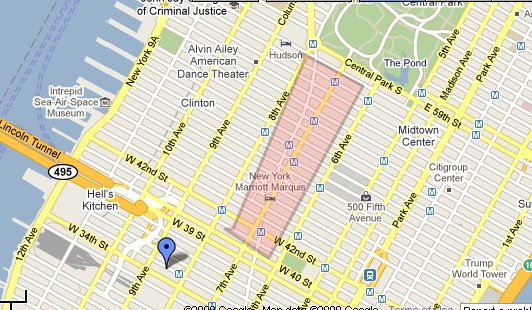 Join us for a fun-filled and mellow evening at the coolest tango party in town!
At the beautiful Basic Ballroom Studio
335 West 35th St, 5th floor
between 8th Ave and 9th Ave
New York, NY

2600 sq ft of brand new sprung wood floor.

We are outside the traffic perimeter around Times Square. Midtown will be busy though; plan on arriving by subway (A C E 1 2 3) or on foot; when on foot, avoid the Times Square area.